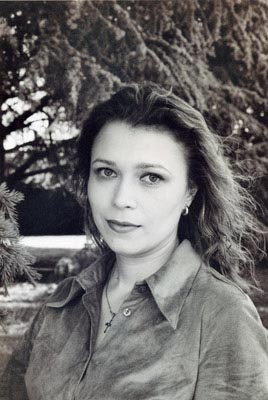 SVETLANA SPIRIDONOVA

Mezzo – Soprano

She has graduated in opera singing with full marks at Rome "Santa Cecilia" Conservatory.

The Roman Association "Amici della Musica" awarded her the "Marcello Intendente" prize as the best graduated person in "Santa Cecilia" Conservatory of the year 2000.

She won the "Musica 2001" prize which was founded by the Rotary Club Roma Sud for the best graduated people in Latium Conservatories.

She won the First Absolute Prize for the category Mezzo – Soprano and Alto at the 1st "Beato Pio IX" International Competition of Sacred Music and she also was the Overall Winner of the Competition.

She won the Special Prize by the Carinzia Symphony Orchestra at the RICCARDO ZANDONAI International Competition for young opera singers.

She took part at the "Premio Valentino Bucchi Anno 2001" International Competition by performing for 20th century singing and she won the 3rd Prize.

In 2003 she won the 1st Prize at the 2nd "Bevagna City" International Opera Singing Competition. During the same year she won the "Padua City" Special Prize at the 18th "Iris Adami Corradetti" International Opera Competition and the Special Prize by the Concordi's Academy and Fiuggi Commune at the 5th International Competition of Contemporary Music.

Since 1995 she has carried out an artistic activity for which she has got enthusiastic success by public and critics.

She has played Magdalene in Verdi's "Rigoletto", Lola and Mother Lucy in Mascagni's "Cavalleria Rusticana", Madelon in Giordano's "Andrea Chenier", Aunt Princess in Puccini's "Suor Angelica" , Marfa in Mussorgskij's "Kovanscina", Candellas in de Falla's "Amor Brujo", the part of the Alto in Dvorak's "Stabat Mater". She has been the one solo voice at the Great Concert for the closing of the Jubilee Year and the Welcome to the 3rd Millennium in Vatican.

She has worked for Klagenfurt Carinzia Opera House, Austria, were she has played the Third Lady in Mozart's "The Magic Flute".

Recently, she has graduated in chamber music with full marks at Rome "Santa Cecilia" Conservatory.